Orvis Power Taper Textured Fly Line
$129.00
Since 2013 all Orvis fly lines have been designed and produced by Scientific Anglers, who have been an industry leader.  PRO Textured Power Taper Fly Lines offer increased surface area, allowing the line to sit higher in the water, offering less drag, easier mending, less water spray and easier pick-ups. The micro-textured surface traps air to provide increases in both shootability and floatation while decreasing friction.
The Orvis PRO Power Taper is designed for loading faster action rods at a half-size heavier than industry standard grain weight. The advanced compound taper design allows for easier turn-over of heavier rigs, including larger dries, dry-dropper rigs, nymphs, and streamers. The Power Taper will load a rod deeper and quicker than a traditionally weighted line, helping to enhance "feel" and improve timing during the cast. The 50′ head adds length for better line control and loop stability and the longer head excels at on-water maintenance for mending on longer drifts
Free shipping on orders over $200!
Satisfaction Guaranteed
No Hassle Refunds
Secure Payments
Description
AST Plus treatment provides continuous slickness that incorporates completely, continuously migrates out, works longer, and is eight times slicker than any other slickness additive available for better shooting, improved floatation, and performance. Easily sheds dirt and oils allowing line to perform better longer
Orvis Line ID quickly identifies the line with the taper, weight and functionality
Enhanced welded loop makes leader attachment quick and easy while holding up to repeated use. Helps to transfer energy more efficiently to the leader allowing better turnover
All PRO lines are 90′ in length and incorporate three color sections at 8′(stealth tip), 30′ (from the tip), and rear taper and running line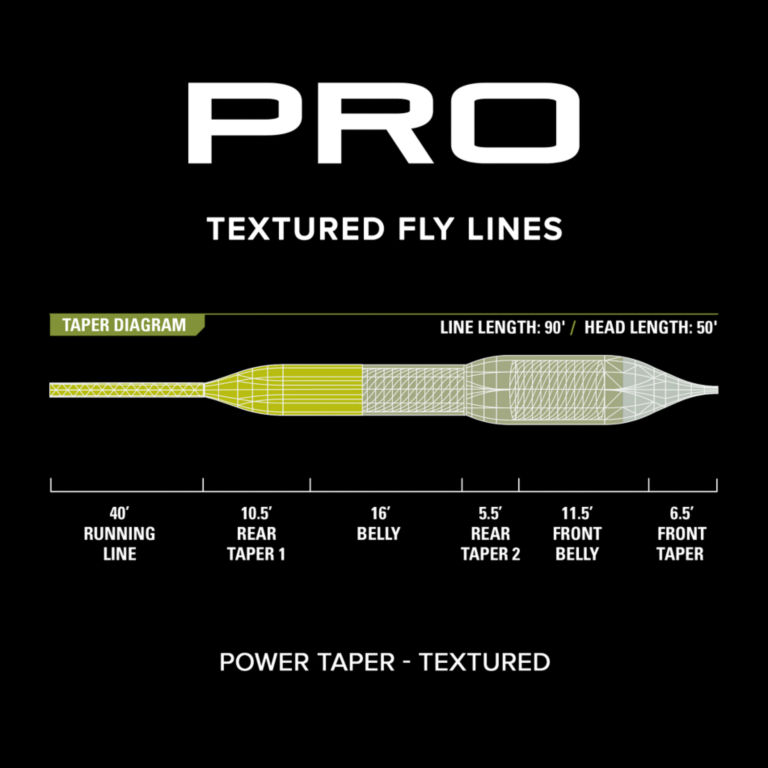 Additional information
| | |
| --- | --- |
| Color | Olive |
| Size | WF4F, WF5F, WF6F, WF7F, WF8F |