Orvis Clearwater Sinking Line
$59.00
The Clearwater Type VI Sink Fly line is an economical option for carrying flies below the surface and into the swing zone at a sink rate of 6 IPS. It is good for all types of water like lakes, ponds, or deep rivers. It has a welded front loop and multifilament braided core for cold to medium water temperatures. The Clearwater Type VI Sinking Line comes in 5 to 8 weights and it is 90' long. Manufactured by Orvis in the United States, the line is available only in Black.
Free shipping on orders over $200!
Satisfaction Guaranteed
No Hassle Refunds
Secure Payments
Description
Clearwater Fly Line is professionally developed using a number of special technologies to ensure unsurpassed performance. If you love fly fishing, you will definitely love the Clearwater Fly Line for its high strength and casting ability.
Forget the guesswork because this line from Orvis is quick and easy to identify. The line is made with weight, taper and functionality. When purchasing from Orvis, you get both quality and great value.
The Clearwater Fly Line is a great product for fly fishing beginners to slowly improve their squad with confidence. It's very easy to use and a great help for beginners to get started. The line isn't as accurate and powerful as the techniques, but this is the thing to improve your fly fishing skills. However, it's not only made for beginners: many fly fishing experts in the field use the Clearwater Fly Line.
The Clearwater line has a well-defined welded loop at the front side for quick and easy leader attachment while holding the line. This loop makes the energy transfer from the flying line to the leader very efficient, which leads to smoother and better rotations.
Orvis designed this Clearwater line using microtexture technology that significantly increases buoyancy while minimizing friction on the connected parts, making the line more efficient and helping it to perform well during every fly fishing session.
The microtexture technology and the proprietary additive built into the line enables longer casts and ensures that the line stays clean. The line is designed to repel algae, sand, dirt and all other water particles that interfere with buoyancy.
This line is available in fluorescent yellow and in sizes 3 to 9, you can choose any size according to your needs. Grain weights vary with the size of each line, the smallest size being a 30 ' weight of 111 and size 9 being 261. The total length of the fly line is 90 feet. The head measures 30 feet and the center 23.5 feet. The total length of the lanyard is 59.5 feet.
If you are looking for an inexpensive fishing line that is superior to your fly fishing sessions when you are still an aquarist, you have found it! Clearwater Fly lines are affordable but they work like any other high-priced competitor line. It is definitely something to take home with you.
Color: Black only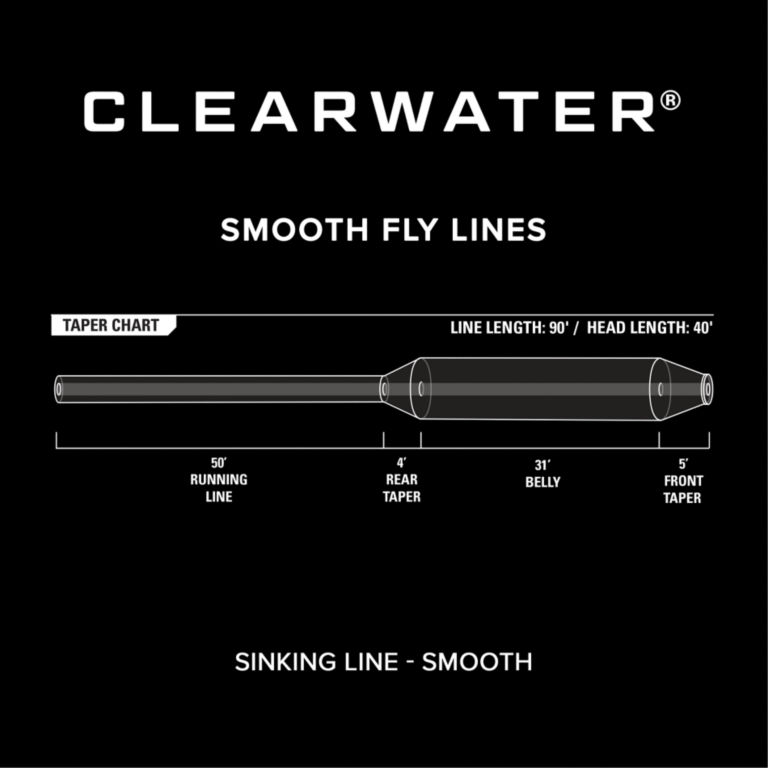 | Clearwater Type IV Sink | 5wt | 6wt | 7wt | 8wt |
| --- | --- | --- | --- | --- |
| Tip | 0.5′ | 0.5′ | 0.5′ | 0.5′ |
| Front Taper | 5′ | 5′ | 5′ | 5′ |
| Belly | 31′ | 31′ | 31′ | 31′ |
| Rear Taper | 4′ | 4′ | 4′ | 4′ |
| Running Line | 50′ | 50′ | 50′ | 50′ |
| Total Length | 90′ | 90′ | 90′ | 90′ |
| Total Head Length | 40′ | 40′ | 40′ | 40′ |
| Grain Wt @30′ | 150 | 172.5 | 197 | 223 |
Additional information
| | |
| --- | --- |
| Line Weight | 5wt, 6wt, 7wt, 8wt |